NICOMAR
– Maritime Sales Services
Welcome to NICOMAR Maritime Sales Services! We are your experienced, internationally operating partner for sales representation of high quality ship equipment, life-time support services and spare parts as well as consultancy for the maritime industry.
Image Brochure
Sales
Our representation of high-quality ship equipment enables us to be trusted technical and commercial consultants for shipowners when they invest in new vessels. We understand that careful and considered maker selection is a critical factor to guaranteeing shipbuilding quality and our experience of the maritime industry will help them to realise their goals.
Service
For the existing fleet, we provide reliable lifetime support for all vessels with the supply of genuine spare parts and local stockholding for operationally critical spare parts to ensure short delivery times. As a service station for major European ports, we can extend the service network of our Asian partners to Europe. Our service engineers are fully trained and certified by the original manufacturers enabling us to provide high quality and professional after-sales support to the fleet.


Consultancy
We provide consultancy focused on sales and marketing in the maritime industry. Our extensive experience with Asian and European shipbuilding and operation enables us to develop strategic sales concepts and campaigns and to be an exceptional partner in concept execution and implementation.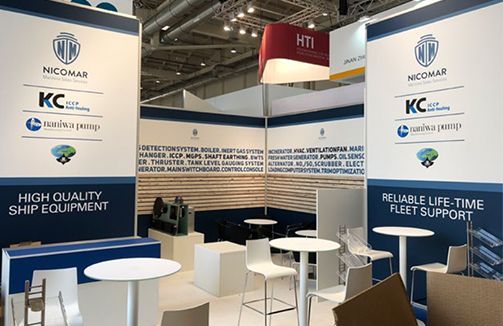 Exhibitions & Trade Shows
We commonly present our services and our principals' products at international exhibitions like SMM and Marintec.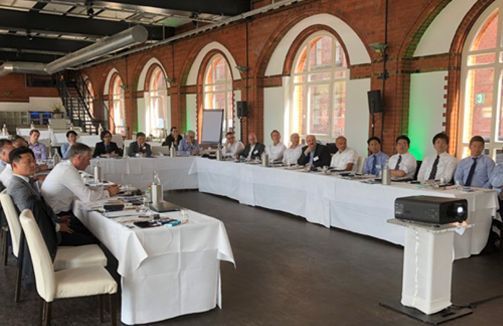 Technical Seminars
Regular technical seminars help to educate shipowners and customers about the latest technological innovations and regulatory updates.
Represented companies / brands
B-I Industrial: Fire & Gas Detection System
Daehan Rope: Fiber rope, Wire rope
Dongwha Pneutec: Air compressor, Gas compressor
Hyundai Heavy Industries: HIMSEN main engine
JL Marine & Engineering: HVAC, Ventilation fan
Jung-A Marine: Accommodation ladder, Davit, Air winch and capstan
Kangrim: Boiler, Inert gas system, Incinerator
KC Ltd: ICCP, MGPS, Shaft earthing
KCC: Marine Coating
LHE: Heat exchanger, Freshwater generator
Nakashima: Propeller, Thruster
Naniwa: Pumps
Panasia: BWTS, Tank level gauging system, NOx/SOx scrubber
Taiyo: Alternator, Electric motor, Shaft generator, Main switchboard, Control console
Techmarine: Loading computer system, Trim optimisation programme
Red Rock